Free Test Papers for Primary School English Compositions Exams
Free Test Papers English Compositions Exams Before the Exams Start!
Here are some free test papers  (English Composition topics) for your child to practice before exams.
We have selected common exam questions that are frequently tested in school. (For primary 3- 6).
  Some of them were tested in the more recent PSLE exams.
 Primary 3 & Primary 4 Test Papers
Topics
 An Unfortunate Incident

 A Surprise

 Being Kind

 An Unforgettable Outing

 A Brave Act
Primary 5 & Primary 6 Test Papers
Topics
 A Secret

 A Special Gift

 Being Trustworthy

  Helping Someone

  A Happy Occasion
 Using Composition Test Papers
After your child has attempted the compo test, you'll obviously need someone to mark your child's work.  
Here at Writing Samurai, we provide unlimited compo marking service for students who have signed up for the Little Writers Master Class or the Creative Writing Master Class.
(Yes, you get to enjoy this marking service even when you are on your 30 days free trial…)
Our dedicated marking team will mark your child's work, correct the mistakes, and give your child advice on how to improve.
That way, your child will get to apply the writing methods and strategies taught in the online course.
Your child simply needs to type out the composition on Microsoft word and submit the assignment to the designated email as instructed in the course.
If you prefer your child to practice writing on paper, simply take a clear photo of the composition, then email it to us.
We will reply you within 3-5 working days (Mondays -Fridays).
A word of advice on using composition papers…
One common mistake we see parents make is this – They simply just make their child write compo after compo without letting the child learn any new writing strategies.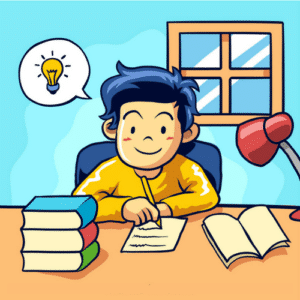 This is ineffective as your child will simply just repeat his mistakes or misconceptions over and over again.  Do it long enough and your child will just form bad writing habits, which is what you do not want to happen. Based on personal experiences, we spent a lot of time changing bad writing habits in our new students.
If they had started fresh without any misconceptions or preconceived notions about compo writing, they would have an easier time adopting our compo writing methods and applying effectively.
Let us help your child build good writing habits starting today!
Grab your Free Test Papers now!
While you are at it, you might want to check out some of our top model compos on this page >>> Model Compositions for Primary School
What is the topic (and pictures provided) for a compo your child has done recently?  Let us know in the comments below!
Visit other related articles on Writing Samurai: