What if your child could learn EVERYTHING about creative writing in 1.5 hours?
Well now you can.
Unveiling the Creative Writing Course that started it all…
Launched in mid-2015.  1000 students joined.  1000 students' lives changed.
Now your child's life can change too!
No more going to tuition centres.  No more memorising fancy, out-dated phrases.  No more copying "model" compositions.  No more writing mediocre essays.
Creative Writing For Primary School – Fast results, Simple and Effective
Learn the methods that help 80% of my students top their class in compo writing.
Your child will learn how to generate ideas and express thoughts clearly.
Your child will learn how to come up with vivid, detailed descriptions.
Your child will learn how to hold the reader's attention and build suspense and excitement
And most importantly, your child will learn what it means to write a simple but beautiful essay.
Hear What Others Have to Say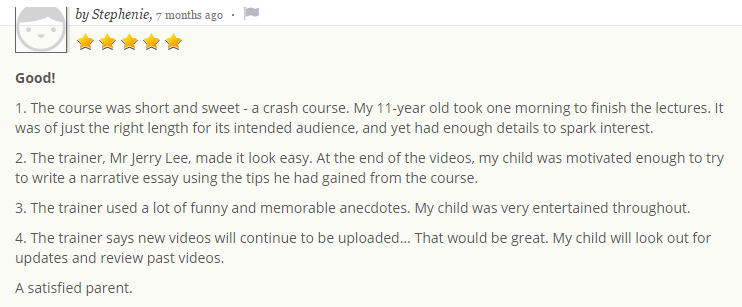 What Is Covered in the Course «Creative Writing For Primary School – A Crash Course»?
This course is based on the latest MOE syllabus.
Your child will learn all these topics:
The Basic Essay Structure

How to Plan Your Essay in 5 min

Brainstorming Common Essay Themes

5 different ways to write an Introduction

What Introduction Cliches to Avoid

How to build Suspense

How to write the Conflict / Problem

How to throw in additional complications

How to resolve the Conflict / Problem in a unique way

How to write a satisfying Conclusion

How to use the Vary Words and Sentence Structure

Positive and Negative Connotation

Use the Right Words at the Right time (emotive, action words, etc.)

Simple, Compound and Complex sentences

Paragraphing Techniques

How to Write a Vivid, Detailed Description

Proper Dialogue Punctuation
This is a great course for students who are weak writers!
Support for Your Child!
Your child will be entitled to 4 composition reviews.  Send me any compo in Microsoft Word format, and I will review it for you.
I will teach your child what areas to improve on, so that he can become a more proficient writer.
How does it work?
Once you enrol your child for this course, you will have full access to all the lessons, videos, and assignments in the course.
It's only a ONE-TIME payment for a LIFETIME access.
Any time you cannot remember a particular topic or lesson, simply log in and go through the video lectures again.
How long will this course go on for?
This is a crash course that lasts 1.5 hours.  Consisting of 46 videos lectures,  with some assignments and notes.
I won't recommend asking your child to watch everything at one go.  Let him watch it over a few sittings.
Is My Child Suitable to Take This Course?
This course is created for Primary 5 to Primary 6.
But if your child is in Primary 4 and has a good English foundation, go ahead and sign him up!
What You Will Need to Join this Course
A good internet connection

You can watch this course on a computer, laptop, Ipad, smartphone

This course works on Internet Explorer, Safari, Google Chrome, Mozilla and most internet browsers.

Microsoft Word – to type out the assignments

A positive learning attitude!
Sounds Good! How do I sign my child up?
Scroll back to the top of this page and click the 'Enrol Now' button.  You will be prompted to create an account.  You can log in to the account anytime to continue the lessons.
Special Offer!
Sign up at a special price of $97 instead of the usual $150.
Hurry up and enroll your child now before the offer is over!
Additional Details
Duration of Course – 1.5 hours
No. of Video Lectures  – About 46 Videos
Duration of Assignments and Tests – About 30 to 90min
Course Instructor – Jerry Lee
"Learn creative writing the fast, effective and smart way."
Scroll back to the top and click the Enrol Now button before the offer is over!